Some exciting news and development from the Sacred Harp Singers of Cork!
We have recently moved to a new and more central location for our regular weekly singing. Although the time and day will remain the same (Thursday evenings from 7-9pm), we will now be situated in the Unitarian Church on Princes Street, Cork City. The Unitarian is in a great location and has fantastic acoustics so we are very excited to have it as our new home. We would like to extend a warm thank you to both the Guesthouse and St. Fin Barre's Cathedral Hall for being our home for the past few months.
This August bank holiday weekend, the Sacred Harp Singers of Cork will be traveling west into Skibbereen. We will be holding a Singing School as part of the Skibbereen Arts Festival on Saturday, 2nd August, at 2pm in the Abbeystrewry Hall. If you happen to be in Skibbereen and would like to try something new, come along! All are welcome and no experience is necessary.
Finally, the 4th annual Cork All-Day singing will be taking place on Saturday, 18th October 2014. The weekend is sure to be filled with a lot of song and revelry and we hope to be joined with as many friends, both old and new, as possible. There will be a dedicated post with more information to follow in the coming weeks.
For more information or for any further queries, you can contact us at corksacredharp@gmail.com
67 New Videos from the Second Ireland Convention Online!
In late 2012 we published some 81 video recordings from our second Ireland Sacred Harp convention, held in March that year. At the time we promised that more would follow but certain technical limitations meant that we were unable to deliver… until now!
Over on our YouTube page you will find a new playlist containing 67 videos that essentially make up the Sunday session of the 2012 singing. Once again, these multi-angle beauties were captured and edited by Séamus Hegarty and set to Danny "Luno Valetti" Forde's 4-track audio recordings (which in turn can be downloaded from our Bandcamp page). We really hope you enjoy them!
Check below for a preview or click here for the full playlist!
2014 Singing School Teacher Announced!
We are very pleased to announce Sam Sommers as the singing school teacher at our fourth annual Sacred Harp convention! Sam, who lives in Elkhart, Indiana, has taught rudiments at Camp Fasola for a number of years and is also a member of the board of directors of the Sacred Harp Musical Heritage Association (SHMHA) – a non-profit organization whose purpose is the promotion and preservation of traditional Sacred Harp singing.

For more information about the fourth Ireland Sacred Harp convention, please click here.
Change in Venue for Our Weekly Singing
Cork Sacred Harp's weekly singing has recently changed venues! While the day and time shall remain the same (Thursdays from 7-9pm), each week we will now be alternating between two different spots in the city centre – St. Fin Barre's Cathedral Hall on Dean Street and the Guesthouse in Shandon. The next weekly singing (Thurs 19th) will be in the Guesthouse and this will be our last singing of the year. We will start back again in Dean Street on January 2nd. A full schedule with details (including maps) will be online shortly!
We would like to take this opportunity to extend our sincere gratitude to our previous weekly home, Camden Palace, for everything they have done for us since we started there in August 2010. They gave us a place in which to grow and flourish and for that we will be forever grateful. Thanks for everything guys.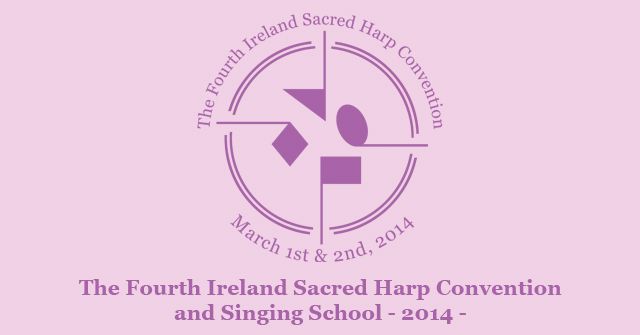 The Sacred Harp Singers of Cork are delighted to announce that our fourth annual
Sacred Harp convention will take place on Sat 1st and Sun 2nd of March, 2014.
We will also be hosting a singing school on Friday 28th February,
with details of our teacher to be announced shortly.
Due to the amazing amount of singers who traveled to sing with us at our third convention
we will again be moving to a new, larger location. We are very excited about the lovely new hall
we have found at St. Marie's of the Isles School. This beautiful building is located even closer to the
city centre and is just a stone's throw from St. Finbarre's Cathedral – so, still in the same
general location as previous years and will be very familiar to returning visitors.

For those of you wishing to make the most of the singing opportunities in Cork this weekend
we warmly welcome you to come and join us for our weekly singing in our home,
Camden Palace, on Thursday 27th February. This is where we traditionally warm up for
the busy weekend ahead!

And so a little mention for our famous social! We are planning a very special one this year at
Cork County Cricket Club. It is a unique location, steeped in the history of the city
– one which we hope you will all enjoy!

Keep an eye on our website and Facebook group for further updates.
We look forward to singing with you all soon!

For more information, please email us at corksacredharp@gmail.com

Click here for full details and schedule.

Click here for the Facebook event page.
A sneak-peek at the new venue: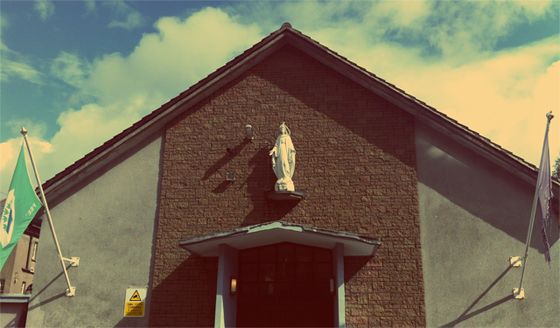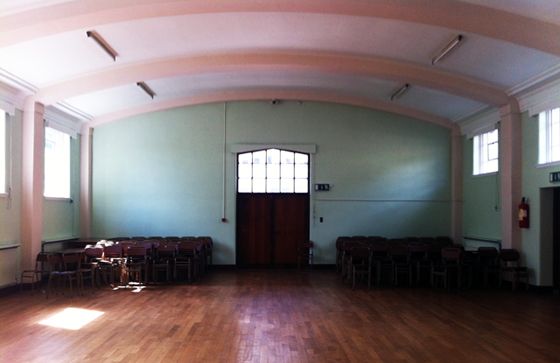 A clip from our 2012 convention:


For many more videos visit our YouTube page!
Cork All-Day Singing 2013!
We are very pleased and excited to invite you to our third annual all-day singing in Cork.
This year the singing will take place in St. Fin Barre's Cathedral Hall in Cork City
on Saturday October 19th!
St. Fin Barre's Hall proved itself to be a beautiful and intimate setting for our convention
in March, and so we are very excited to be revisiting the hall to sing again. There will
be a social planned for Saturday evening with the venue to be confirmed closer to the date.
We will also be holding an alternative sources singing in Camden Palace on Friday October 18th.
For this singing we will be singing from the Shenandoah Harmony, a new and very exciting
shape-note tunebook; if you don't own a copy of this book, don't worry - we will have a
limited number of loaners available for this singing session. Also, should you wish to
lead a song from another book, you are more than welcome to do so, we just ask that you
bring some photocopies of the song for us all to sing from.
And for our fellow shape-note enthusiasts with more time in the Rebel County, we will
have our weekly singing session in Camden Palace on Thursday October 17th at 7-9pm
- the perfect way to extend a trip to an all-day singing into a long weekend
of shape-note shenanigans!
This year, our accommodation coordinator is Kate Kirwan; if you would like
information on guest houses or would like to be hosted by a local singer,
please contact her at katemkirwan(at)yahoo.com
If you have any other queries you can contact us at corksacredharp@gmail.com
New Monthly Beginners' Workshops in Cork!
We are very pleased to announce the beginning of monthly Sacred Harp/shape note singing workshops in Cork. They will take place at the lovely Plugd Records (in Triskel Arts Centre) and the first is scheduled for Sunday, May 12th at 2pm. Here's the blurb:
Come check out the rich harmonies of Sacred Harp singing in a beginner-focused session at Plugd Records.
The Sacred Harp is a singing book full of music dating from the 16th through to the 20th centuries, sung in four part a cappella harmony just as it was hundreds of years ago (which is pretty cool). You can expect discordance, interesting lyrical content, high energy, very high volume and, definitely, loads of fun. We promise fun.
It is not choral music. There are no auditions. All are welcome. The way the music is laid out is designed so that anyone can pick it up - even those with no musical training or background.

This workshop is for anyone who is free on Sunday the 12th, anyone intrigued by this description, anyone who enjoys singing (even those who aren't "good" at it!), anyone who likes trying cool new interesting different things with an open mind, and also just anyone.
The workshop will begin with a lesson on the basics of shape note singing by Eimear O'Donovan, followed by a short break for tea, coffee, general rehydration and snacks. After, there will be a session where we will learn a few songs as a group.
In addition, (as inspired by the Portland, Oregon Sacred Harp group) each month a different singer from the Cork group will give a short talk on something that interests them, or something they think worthwhile for a group of new singers to hear.
All welcome. No charge. Bring a friend.
The aim is to meet regularly on the second Sunday of every month, with the second workshop scheduled for Sunday June 9th at 2pm. Of course, beginners are also always welcome at our regular weekly singings, every Thursday at 7pm in Camden Palace.
We hope to see you on the 12th!
P.S. A quick shout out to our friends in Bremen (Germany) and Belfast. Both are hosting all-day singing events on the 11th of May. If it's possible for you, we highly recommend you pay them a visit. Check out their Facebook pages for more info:
Convention 2013 - Venue Announcement!
We are delighted to be able to announce St. Fin Barre's Cathedral Hall as our new venue for the third Ireland Sacred Harp convention, this March.

Most of you who have been to either of our past conventions would no-doubt agree that our previous venue, UCC's Aula Maxima, is visually beautiful but its high ceilings and book-lined walls make for a less-than-ideal singing space. Our own experiences, along with feedback from visiting singers, led us to decided that it was time for a change. We feel that this new room – a meeting space and scout hall adjacent to the cathedral proper – will go a long way to improving the singing experience for everyone.

One of our major fears when looking for a new venue was the chance that we might not find a location with as much history or aesthetic beauty as the Aula Maxima. With St. Fin Barre's Hall this could not be further from the truth. The cathedral itself is a stunning example of Gothic Revival architecture and will provide a beautiful backdrop to the weekend's singing, but let us talk a little about the history of its grounds…

It is said that in c. 606 AD, Saint Finbarr (Fionbarra, in Irish – meaning "fair head") established a monastic settlement in an area known as an Corcach Mór – the Great Marshes. This settlement became renowned as a place of learning and eventually grew, with a little help/hindrance from the Vikings, to become what we today call Corcaigh, or Cork City. The cathedral grounds lie on the very site of that first settlement.

As you can imagine, we are extremely humbled to be able to host our convention on the birthplace of our little city and are very much looking forward to sing with you there.

In other news, we have updated the "Convention" section of the site to include everything
you need to know about the weekend's festivities!

For full details of the convention and the schedule, visit:
http://corksacredharp.com/convention

For more information on St. Fin Barre's cathedral, visit:
http://cathedral.cork.anglican.org/
Cork Partakes in Shenandoah Harmony Launch Weekend
If you have been following or attending Cork singings you may have picked-up on the fact that we really, really enjoy the songs found in the sampler packet of a soon-to-be-released tunebook called, the Shenandoah Harmony. It is no surprise then that when we were asked if our convention could be the stage for its European launch we were very happy to oblige. From their website:
Although there may be a few singings that get books earlier, we've decided
to make March 2-3 our official launch weekend. Members of the committee will
be traveling to the Northern Shenandoah Valley First Saturday Singing (Berryville VA),
the Ohio State Convention (Dayton), the North Carolina Sacred Harp Convention (Raleigh),
and the Ireland Sacred Harp Convention (Cork) with books in hand.

This has been a long process, arduous but incredibly rewarding. We wouldn't have made
it without the encouragement, support, and assistance of all of you. So, THANK YOU!!!
and see you in March!
We would like to take this opportunity to wish the ShenHar crew all the best in these exciting final stages. We can't wait to get our hands on them.

www.shenandoahharmony.com/

The book launch/singing will be one more thing to be excited about at the fast-approaching Ireland convention weekend. Expect the full details, including venue and schedule announcements to be online in the next couple of days!
Second Ireland Convention Videos Online
You may have already noticed that we have recently uploaded a good many videos from the second Ireland Sacred Harp convention (March 3rd & 4th, 2012) to our YouTube page. These (720p!) videos have been recorded and wonderfully edited by the tireless Séamus Hegarty and are set to the fantastic audio recordings by Danny Forde, which have previously been made available as a free download.

The entire set of videos from the Saturday session are online now, with the Sunday session on its way very soon. We very much hope that you will enjoy them.

Have a look at the preview, below, or see the full set here!